Access to Cronulla Beach with your wheelchair
With the Summer approaching it's fantastic news to learn that Sutherland Shire Council in conjunction with St Vincent de Paul have combined to make it easier for accessible access to Cronulla Beach.  
FREE Beach Wheelchairs available at South Cronulla
Available when the lifeguards are on duty this beach wheelchairs are available FREE OF CHARGE to the community to enable them to enjoy the fabulous beach and water at South Cronulla.

The two wheelchairs are the Free Wheeler by Northcott and the Hippocampe – All-Terraine wheelchair.

Mobi Mat – FREE USAGE – South Cronulla beach

The Mobi-Mat is a fantastic way to provide wheelchairs, and anyone who has difficulty in walking, access across the sand and sea.  It allows everyone to enjoy the fabulous beach lifestyle we have in The Shire.
The mat is a temporary and portable roll out pathway which the lifeguards will help you with.
– available 7 days a week
– bookings between 8am to 4pm in Summertime
– bookings between 10am and 2pm during Winter
– you will need to have a support person with you
New Electric Beach Wheelchair – FREE USAGE

News out that Vinnies have also expanded it's accessibility equipment to get everyone onto the beach with the fantastic self propelling electric beach wheelchairs. 
Bookings for the Mobi-mat, Beach Wheelchairs and Electric Wheelchairs are essential and can be made by
Going online HERE
by calling Lifeguard Headquarters on 02 8522 2100
This community service is provided by Sutherland Shire Council. 
Full details can be obtained HERE
Accessible parking
If you're looking to use either of the beach wheelchairs, parking is available at South Cronulla Beach in front of the Surf Life Saving Club. If you wish to use this space, please inform the lifeguard at the time of your booking so a permit can be arranged for you. Alternatively, you can drop your passenger off at this location and park elsewhere.
Other accessible facilities in Cronulla
Accessible toilets in Cronulla
There are several locations with pubic accessible toilets in Cronulla including:
South Cronulla Surf Life Saving Club/Cronllla Park
Cronulla Mall – at the Kingsway behind the performance area
Within Cronulla Central – enter from Cronulla Mall or Croydon Street
Eloura Beach CHECK
Wanda Beach CHECK
Accessible view points in Cronulla
Take some time to visit the newly finished view point at Cronulla Park overlooking South Cronulla beach and with reaching views across Bate Bay.
Watch the action taking place on the beach and in the surf.  Keep and eye out for dolphins, or watch the planes on their approach to Sydney airport. 
Other viewing points can be found along the Esplanade Walk and also towards Wanda Beach.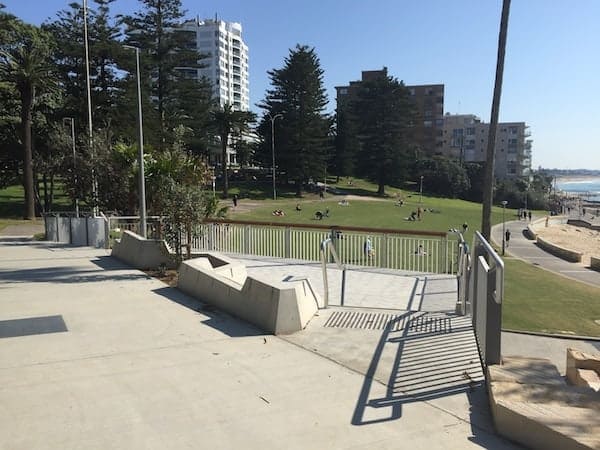 The view across Bate Bay from Cronulla's lastest viewing platform.