Where is the best place to surf in Sydney? We think the ocean breaks around Cronulla provides an exceptional range to choose from. 
Made famous by renowned visitors such as Duke Kahanamoku, the world famous supporter of surfboard riding who visited from Hawaii in 1915, and professional surfer and World Champion Mark Occhilupo, it's become a favourite spot for surfers globally. Cronulla's breaks offer something to suit surfers of all ability – from beginner to pro, young to those with a few more years on their side!  The selection of breaks running along the coast ranges from beach breaks to the exhilarating world class waves found at both Voodoo and Shark Island.
Our top surfing breaks around Cronulla include:
The Alley 

– is a south/south east swell over reef/rocks so watch out for sharp rocks and coral.  Located between South and North Cronulla beaches it breaks towards North Cronulla and is suited to experienced surfers but offers quality waves. Easy to reach you can park up, grab your board, jump over the wall and get into the water. 
Cronulla Point – has been known as the birth place of modern surfing in Cronulla for over 50 years.  The point break provides you with a reliable surf unaffected by the tides.  Protected from Winter winds it can get crowded once the swell get up and in Summer.  The best swell comes from the south east and offshore winds are from south southwest.  Again be careful of rocks. 
Shark Island – provides consistently good quality waves, like Cronulla Point; the best swell angle comes from the southeast and wind direction from the southwest. Due to the rocks its best breaks are found around mid-tide when the tide is on the way up. Shark Island is also popular with body-boarders. It's suited to experienced surfers who should be careful to avoid inexperienced surfers getting in the way, and exposed rocks in the shallow waters around the island at low tide.  In fact this break is best suited to more experienced surfers – so don't be tempted if you're not in this category.  Onlookers can take advantage of great views from The Esplanade walk way which runs along the Cronulla coastline from Wanda to Bass and Flinders Point

. 
Voodoo

– s
uitable only for pros this is break is not for the faint hearted so is never crowded.  It's fast and powerful, often with massive south, south east/west swells. It's reef/rocky nature means you need to look out for rocks, rips, undertow and sea urchins. Access is via the 4 wheel drive park at Bate Bay on the road to Kurnel.  Follow the tracks to drive directly onto the beach and paddle out, or if you're lucky get out by boat.  Located at the end of the beach strip about 500 metres right off Suck Rock.
Sandshoes –
some say this is the best break in Cronulla, with consistent surf conditions.  It's suitable for those more experienced surfers and particularly liked since the surf is usual quiet – great for surfers who don't appreciate crowds!  As ever keep an eye for rocks and rips – and particularly sea urchins.  The break gets its name from sandshoes worn by surfers in the 1960s before leg ropes were introduced.  Wind direction won't affect your ability to surf, that said the best wind direction is from the southwest, west; and the best swell direction being east, northeast.
Sandshoes at Glashier Point, Oak Park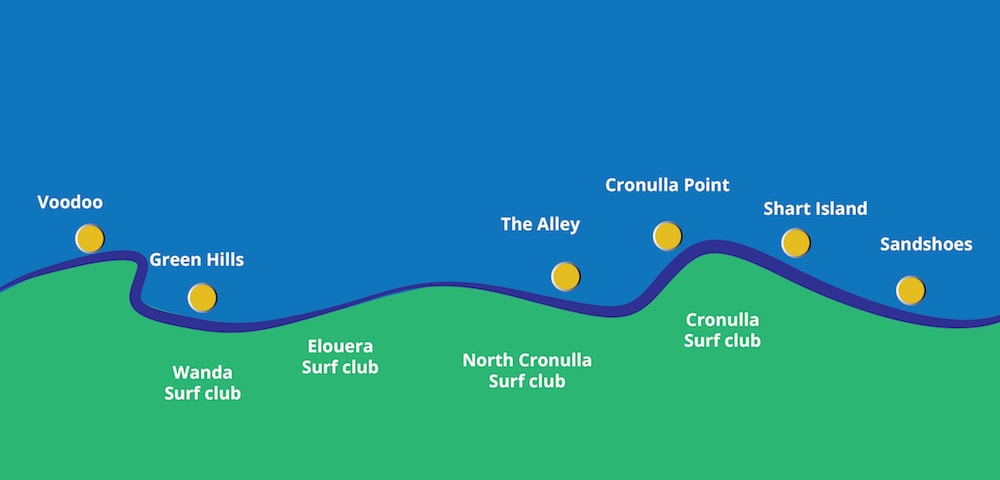 Other breaks to try in Cronulla include:
1.  Sandshoes
2.  Shark Island
3.  Cronulla Point
4.  The Alley
5.  The Point
6.  The Wall
7.  Eloura
8.  Wanda
9.  Greenhills
10. Merries Reef
11.  Voodoo
Important Safety Information
Safe Surf at All Time:
Don't try breaks above your experience level or when sea and weather conditions are poor.
Cronulla's beaches are patrolled by professional lifeguards and volunteer lifesavers.
As Summer comes to an end life guards will only patrol Cronulla Beach from 7am to 4pm, with a roving observation service and response 7 days a week on other Bate Bay beaches.
You can check Sutherland Shire patrol times:
And remember to always swim between the red and yellow flags.
Learn to surf in Cronulla
Surfing lesson are available from professional and experienced instructions from either Cronulla Surfing Academy or Surfing Cronulla Surfschool.