Enjoy Dining at Cronulla's Newest Restaurants
Visit one of Cronulla's bustling restaurants and bars, there's always something new and fresh popping up. Cronulla's restaurants have made an impression on the local community due to their unique approach to a vibrant industry, helping to keep the scene fresh.
Salts Meat Cheese
Salt Meats Cheese is a new Italian restaurant and bar that is housed in the old Commonwealth Bank building. Pizza, pasta, salads and share platters are on the menu. They offer a lovely bar, cafe and dining experience for all customers, and are available for functions and catering. The clientele have positive reviews about the customer service and the well-made cocktails and alcoholic beverages
Shop 1/59-65 Gerrale Street, Cronulla
Henry's

Henry's Cronulla is a contemporary yet laid back restaurant with outside, sunlit tables and a modern interior that serves Japanese-inspired meals that are made to be shared. The seafood is delightful and is perfect for romantic date nights, or for families looking for a relaxed vibe after a day at the beach.
The meals here are healthy, tasty and fresh, capturing the essence of the seaside in its menu.
1 Ocean Grove Avenue, Cronulla
C.C. Babcoq
C.C. Babcoq bar, rotisserie and eatery has become a highly regarded newcomer to Cronulla, presenting simple yet beautifully made comfort food. C.C's is part restaurant, part rotisserie chicken shop and although the atmosphere is casual, the service is perfect from the moment you walk through the door. C.C Babcoq sources ingredients locally, and has a range of vegetarian and vegan salad options available. Cocktails are also an option. Summer days will see this restaurant and eatery bustling with beachcombers.
Shop 4/5/66-70 Cronulla Street, Cronulla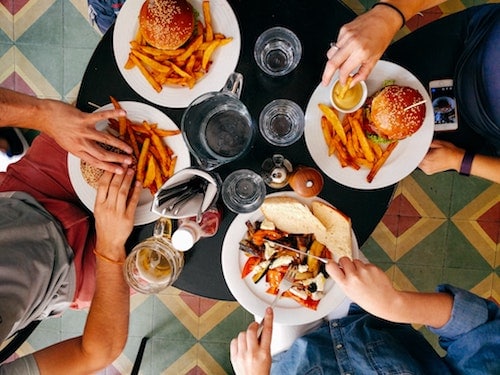 Betty's Burgers and Concrete Co.
Betty's Burgers is a new burger shop that has landed across from South Cronulla Beach – the perfect location to retrieve a mouth-watering burger after a daily stroll along esplanade, and takeaway is available for sitting in the park. Driving by the park it is clear to see by the activity out front of this new burger shop, that the burgers have made a strong impression. This locale also provides heavy delicious desserts (concretes) that consist of frozen custard ice cream topped with Betty's favourites, thickshakes, beers, ciders, and wines, all in a cute diner-style setting.
 Shop 1/59-65 Gerrale Street, Cronulla